Foreign tourists to Vietnam surge in January
The nu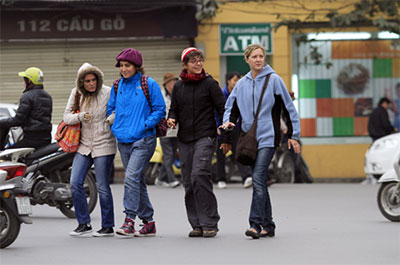 mber of foreign tourists to Vietnam in the first month of 2014 is estimated at 722,350, up 7.5 percent from last December and 21 percent against 2013's January.
According to the General Statistics Office, the Russian market recorded the highest rise, with 89 percent, followed by Hong Kong (China) (87 percent), Germany (58 percent), the Philippines (21 percent), and Norway (20 percent).
Of the month's figure, 382,000 came to Ho Chi Minh City, representing a year-on-year rise of 12 percent.
Vietnam's tourism sector plans to receive 8 million international tourists, serve 37.5 million domestic tourists and earn 230 billion VND (10.8 million USD) this year.
The Ministry of Culture, Sports and Tourism has devised a plan for 2014, based on the strategy and the master plan on developing tourism to 2020, with a vision to 2030 and the national action plan on tourism for the 2013-2020 period.
It will focus on improving tourism products and service quality, addressing the sector's shortcomings and organising successfully the National Tourism Year 2014 in the Central Highland province of Lam Dong and other regional provinces, as well as preparing for the National Tourism Year 2015 in central Thanh Hoa province.
In 2013, Vietnam received 7,572,352 international tourists, a 10.6 percent rise over 2012, bringing 200 trillion VND (9.4 billion USD) for the state coffer.
Most of international markets saw increases: Russia (71.1 percent), China (33.5 percent), Thailand (19.3 percent), New Zealand (16.3 percent), Indonesia (15.7 percent), Belgium (14.1 percent), and Malaysia (13.5 percent).
(Source: VNA)